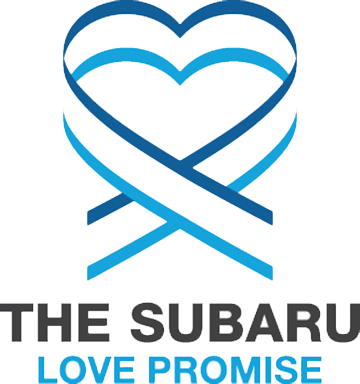 What is the Subaru Love Promise?
Subaru and our retailers believe in making the world a better place and the Subaru Love Promise is our vision of respecting all people. This is our commitment to show love and respect to our customers and to work to make a positive impact in the world.
How is New Motors Subaru dedicated locally to the Love Promise?
Our Love Promise can be seen in various partnerships with local charities and non-profits. We're grateful for the opportunity, not only to be a part of our community, but to serve it as well.
The Anna Shelter, The Humane Society
Children's Miracle Network, United Way
Love Promise Stories from New Motors Subaru
Subaru and New Motors Subaru believe in making a positive impact on the communities in which we live and work. We uphold that belief through our Love Promise Community Commitment. Every month, we select inspiring stories from customers and partners from around our area who strive to support our collective commitment and feature them here
New Motors Subaru Fulfills Puppy Wish for Carlos - Allen Y
Once again, New Motors Subaru has shared their love with Make-A-Wish and one very special boy, who needed the strength that comes from a wish to get out of the hospital! There's nothing as heartwarming as the old story of a kid with their dog. Like many children, seven-year-old Carlos watched animal films, saw little boys his age toss a ball in the air while a rambunctious puppy bounced around. He wanted that experience, but more importantly, he wanted a furry best friend. While he spent many nights in a hospital bed receiving chemo treatments and check-ups, Carlos dreamed of having his very own French Bulldog puppy. He was so excited when he qualified for a wish with Make-A-Wish; finally, his dream would come true! In late June, Carlos met his new puppy, a tiny, black and brindle Frenchie puppy he named Mack. While he was hospitalized with an infection when the puppy was first delivered to his mom, seeing photos and videos of his new friend was the only encouragement he needed to get better. Carlos is taking Mack for walks, giving him lots of treats, and snuggling up together at bedtime. Carlos now lives that animal film life and gets to spend many years playing and caring for his new best friend -- all thanks to Allen Yingling and the New Motors Subaru team. Thank you from all of us at Make-A-Wish, especially Carlos.
---
Second Harvest feels the "LOVE" - Michelle S
Through the Subaru Love Promise, Second Harvest Food Bank of Northwest Pennsylvania received a check for $29,000 in efforts to supporting our mission to provide food for those in need throughout our 11 counties. Amongst a global pandemic, Second Harvest has seen a 26% increase of individuals who are food insecure. Individuals are directed to neighborhood food pantries in addition to supplemental programs such as our produce express, which was converted to a drive-thru distribution in efforts to keep Second Harvest staff and our community safe during the pandemic. This funding has been able to provide 174,000 meals to our neighbors throughout northwest Pennsylvania. Second Harvest greatly appreciates our partnership and feels the "LOVE" from New Motor's Subaru!
---
Clear The Shelters-Saving Animals! - Scott M
We are very proud to have partnered with Owner/Vice President Allen Yingling and the team at New Motors Subaru for such an important event in Northwest Pennsylvania. Clear the Shelters is a nationwide pet adoption drive meant to find forever homes for pets waiting in animal shelters. From older dogs to kittens to rabbits to birds, the Clear the Shelters campaign has inspired local communities to take action and open their homes to pets in need. Since 2015, more than 411,292 pets have been adopted. This type of operation does not come without financial backing and local business support. The New Motors team has taken the lead in sponsoring this wonderful event. Their kindness and generosity has made such a difference in giving our furry friends across the area a great, safe home! From all of us at the Erie News Now, NBC team in Erie, thank you New Motors for all you do to help our animals! Sincerely, Scott MacDowell News Director Erie News Now
---
Second Harvest Food Bank of NWPA BackPack Program - Michelle S
The Second Harvest Food Bank of Northwest Pennsylvania received a check for $10,000.00 from New Motors Subaru in sponsorship of our BackPack program. Funding received will provide 82 local students backpacks for a full school year. Currently, Second Harvest Food Bank has 51 schools enrolled in their Backpack program throughout our 11 counties in Northwest Pennsylvania. This program provides children with nutritious, child-friendly food when other resources, such as school lunches and after-school meals or snacks, are not available. Backpacks are discreetly distributed to participating children at schools on Fridays and helps provide the proper nutrition necessary for overall growth, physical and cognitive development and satisfactory performance in school. Second Harvest is grateful for their new partnership with New Motors Subaru and looks forward to the future! Thank you for you all that you do! Present in the photo is Allen Yingling, Owner/ VP at New Motors Subaru and Michelle Schrimper, School Programs Coordinator at Second Harvest Food Bank of NW PA
---
New Motors Cares: Comforting Cancer Patients - Breanna S
For the second straight year, New Motors Subaru partnered with The Leukemia & Lymphoma Society (LLS) on their month-long "Subaru Loves to Care" campaign. Throughout June, customers and employees at New Motors Subaru were encouraged to write uplifting messages for cancer patients. The dealership collected these "care cards" to distribute at Saint Vincent Hospital on June 19 along with a donation of 80 blankets and 50 arts & crafts kits. Allen Yingling, General Manager of New Motors Subaru, took the time to personally hand out the gifts to patients in the infusion center. The patients were excited to receive their blankets, commenting on how much they liked them and saying that they picked the right day to be there. This was the first year that New Motors Subaru donated arts & crafts kits, and they were a big hit with all of the patients on-site that day, and even the family members and friends who had joined their loved ones at treatment. Many patients planned to utilize the art supplies to help pass the time during their infusions, while others planned to save the kits for when their children or grandchildren accompanied them to treatment. One patient, John, was exceptionally impressed and very grateful that New Motors Subaru would provide gifts like these for patients like him. The blankets and arts & crafts kits that weren't distributed by Allen that morning will be kept in the infusion center for future patients. Allen's visit was truly a bright spot during treatment for so many of the people at Saint Vincent that day. LLS is sincerely appreciative of New Motors Subaru's ongoing partnership on this wonderful program, which provides hope for so many cancer patients in our region. Thank you, New Motors Subaru, for your incredible generosity!
---
Autism Society NWPA is thankful - Tish B
Our heartfelt thanks go to New Motors Subaru and Share the Love | Subaru of America. Autism Society NWPA is a parent/member organization that provides support for individuals and families living with an Autism Spectrum Disorder. Autism is a developmental disorder of neurological origin that affects, often severely, a person's ability to communication and socially interact with others. Autism Society NWPA relies 100% on fundraising dollars to meet our mission goals and support the local community. We are in the trenches with our families providing support, referral, mentors, education, and most importantly a community of understanding. Autism Society NWPA has successfully created monthly social and sensory outings for families. The funds are also used to provide local grants, scholarships, host conferences/educational seminars, Building Connections | LEGO Social Club, Friends & Pals Teen Club with social and transition programming and provide information about autism through presentations and printed material. Choosing the Autism Society NWPA as the Share the Love charity enables us to continue supporting and providing services for individuals and families living with an autism spectrum disorder. In 2018, we expanded our Friends & Pals Teen Social Club and added a transition program (Bridge to Success) for ages 13 -21. The teen club provides an opportunity for friendship, conversation, and FUN! Teenagers need more independent social skills once they leave school for college or the job market. Our group gives teens on the autism spectrum an opportunity to utilize their social skills and practice them in a comfortable environment. Teen Social Club meet monthly for dinner, building friendship, and interactive activities. Our teen Bridge to Success program recognizes persons diagnosed with Autism Spectrum Disorder (ASD) have a lot to offer in the work environment but may need some guidance along the way to build interpersonal skills and confidence. Many people may be gifted in certain areas such as technology and long-term memory, but struggle with tasks such as "small talk" or managing stress levels. These are not skills that are developed overnight, using PowerPoint Presentations, Lesson Plans, Videos, Role Playing and real-life scenarios, there are opportunities to practice and apply the skills needed for successful transition. A focus on a person's strengths will empower and motivate. The goal of Bridge to Success is to help build on the skills and help our teens live safely, happily, competently, and independently as adults. The Share the Love opportunity with New Motors has provided us with funding to continue to expand our monthly and weekly Teen Club offerings. This relationship is invaluable to our organization in supporting our teen population and helping them succeed throughout their lifespan.
---
New Motors Drives Donations for Wishes - Francesca D
Make-A-Wish® Greater Pennsylvania and West Virginia would like to thank New Motors Subaru for helping to create life-changing wishes for local children diagnosed with critical illnesses. For every vehicle sold during the month of May, New Motors Subaru donated $25 to Make-A-Wish. General Manager Allen Yingling is passionate about Subaru's mission to give back to the communities that it serves. He has taken this challenge to heart, inspiring New Motors employees to work together towards a common goal. Together, they reached a new milestone for the month of May, selling 85 cars and donating more than $2,000 help grant wishes. In addition to this fundraiser, Subaru has a long-standing partnership with Make-A-Wish through the national Share the Love campaign. Every year during the campaign, Subaru dealerships all over the country donate $250 for every vehicle purchased or leased. Last year, the Share the Love campaign raised a total of $3.6 million for Make-A-Wish chapters across the country. Wishes have the power to transform the lives of sick children, giving them the opportunity to experience life beyond illness. None of it would be possible without the dedication and kindness of people in our local communities like Erie. Make-A-Wish is grateful for the generous efforts of New Motors Subaru.
---
New Motors Warms Hearts at St. Vincent - Breanna S
New Motors Subaru and The Leukemia & Lymphoma Society (LLS) recently teamed up to spread love, hope, and warmth to cancer patients and their families in the Erie area. During the month of June, customers at New Motors Subaru were invited to write personalized messages of hope for cancer patients, which were distributed at Saint Vincent Hospital on June 28. Along with these encouraging notes, the dealership generously donated hundreds of tote bags and 80 new blankets to the hospital's Cancer Center. To patients receiving chemotherapy, air-conditioned treatment facilities can feel incredibly cold, and many hospitals rely on donations of quilts, afghans, and other blankets to keep their patients warm and comfortable. "The patients are always very cold, and these blankets will mean a lot to them, both keeping them warm, and the security of knowing that someone else cares," said Julie Space, RN, OCN. New Motors was driven to participate in the program because cancer, and blood cancers like leukemia and lymphoma in particular, is a cause to which their employees feel very connected. Recently, three team members' lives were impacted by cancer diagnoses – either their own or a friend or family member's. New Motors' staff saw first-hand that investments in new treatments and cures are making a difference. One of the patients they know received a poor prognosis when he was diagnosed, but because of recent developments in treatments and medicine, he's actually doing very well and is hopeful for the future. LLS is grateful to New Motors Subaru's management, staff and customers for giving their time and resources so generously to cancer patients at Saint Vincent and throughout the Erie community. Pictured, left to right (all staff of Saint Vincent Hospital, except where noted) - front row: Jim Vollant (General Manager, New Motors Subaru), Mary Beth Kroemer, Julie Space, Amy Goodpaster, and Lauren DiMaria (Fundraising Campaign Director, LLS). Middle row: Vicki Soriano, Lisa Allgeier, Amanda McCafferty, Chrissie Simmons, Kelsey Mack, and Joann Wolf. Back row: Darlene Thompson and Melissa Whipple.
---
Make-A-Wish Softball Tournament - Jessica D
This memorial softball tournament is held to raise funds for the Make-A-Wish Foundation. This Foundation grants the wishes of children living with life-threatening medical conditions. This was the 34th annual tournament. New Motors sponsored a team and we really appreciate all their support.
---
Pets On The Bay - Del F
The goal of this event is to promote responsible pet ownership and compassionate caring for all animals, through education and hands-on activities. We want the community to learn about the various animal rescue organizations. We want to help promote local pet businesses, service providers and introduce new pet products. New Motors was the main sponsor for the event!
---