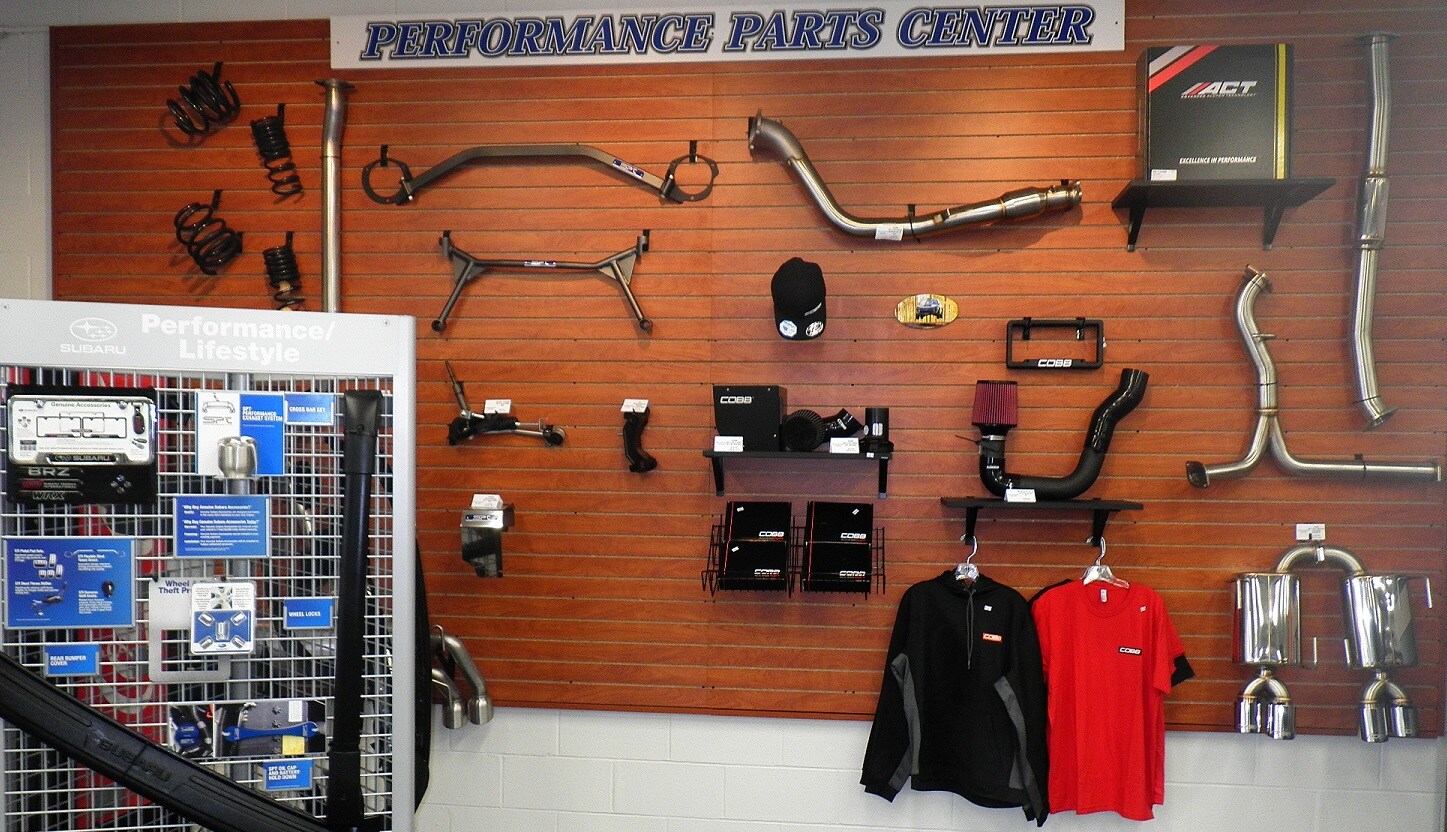 Mission Statement:
    Our goal is to bring Subaru Performance to our local market.  We're offering the best in quality performance parts from the top Subaru Performance companies, as well as providing installation by a knowledgeable service staff and Subaru trained technicians.  When it comes to deciding the right business for upgrading your Subaru, you want someone who you can trust and who knows the your vehicle inside and out.  From regular maintenance to all of your performance needs, we have you covered!  Contact us today to speak with Adam Walker or Brandon Burkett to see what products and options are available for your vehicle.


Subaru Performance Parts Here at New Motors Subaru in Erie, PA
Here at New Motors Subaru we recognize your WRX and STI models for what they really are: works of art. And when you have a work of art, who's to say when that art is finished being worked on? Here, we think you can never put enough work into your vehicle to truly make it your own, which is why we carry the top performance parts to help you achieve all of your modification fantasies on your WRX or STI right here in Erie, PA.. Don't pay expensive shipping costs buying these parts online, instead come join us here at New Motors Subaru, proudly located in Erie, Pa and serving the surrounding areas.

We know how important your vehicle is to you, and we know the need to never be satisfied with its appearance or performance. You can order

Perrin, Cobb, SPT, and Modern Automotive parts

directly through our parts center here at New Motors Subaru. We carry air induction systems, exhaust systems and accessories, wheels and tires, brakes, suspensions, transmissions and much more. We can install your new performance parts right here on site in Erie, and with our expert Subaru technicians, you can have peace of mind knowing that we feel as passionately about modifying your vehicle to your desires as you do.

We strive to be the area's go to place for Subaru parts and services, so we welcome you to come visit us here at New Motors Subaru today! Any of our expert staff can direct you towards the parts you're looking for and assist you in choosing the ones that will make your vision become a reality!
W
e are an authorized dealer of all of the top performance parts companies including:




We have the ability to order any part from any performance part company!